Brundibár Arts Festival: The Artists 2023
Katya Apekisheva is one of Europe's most renowned pianists, in demand internationally as both a soloist and as a chamber musician. Since becoming a prize-winner in the Leeds International and Scottish Piano Competitions and collecting awards such as the London Philharmonic 'Soloist of the Year' and the Terence Judd Award, she has been marked out as a pianist of exceptional gifts, performing with many of the world's leading orchestras, including the London Philharmonic, the Philharmonia, the Halle Orchestra, the Moscow Philharmonic, the Jerusalem Symphony, the English Chamber Orchestra and the Royal Philharmonic Orchestra, working with conductors such as Sir Simon Rattle, David Shallon, Jan Latham-Koenig and Alexander Lazarev.
As a recording artist, Katya has received widespread critical acclaim for her interpretations. Her recording of Grieg solo piano works in .....
More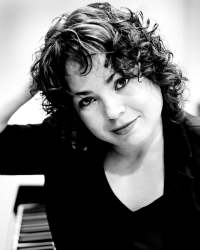 Katherine Broderick
Soprano
Katherine Broderick is a London-based soprano who wins praise for her expressive range and versatility across repertoire that spans intimate lieder recitals to orchestral songs and leading Wagner roles. In 2007, she won the Kathleen Ferrier Award, and the Gold Medal at the Guildhall School of Music and Drama where she studied before attending the National Opera Studio. She is in great demand at international opera houses, concert halls and recital stages, as well as enjoying a busy recording schedule. Her opera roles include Brünnhilde - Die Walküre and Siegfried; Ortlinde, Helmwige and Woglinde - Die Walküre; Ariadne/Primadonna - Ariadne auf Naxos; Donna Anna - Don Giovanni; Adriana Lecouvreur (title role); Tatyana - Eugene Onegin; Alice Ford - Falstaff; Vitelia - Clemenza di Tito; Gräfin - Capriccio; Marschallin - Der Rosenkavallier; Giorgetta - Il Tabarro; Lady Billows - Albert Herring; Miss Jessel - The Turn of the Screw and Mrs Coyle - Owen Wingrave. Roles in concert include Elsa (Lohengrin), Alceste and Ariadne, with companies such as English National Opera, Welsh National Opera, Opera North .....
More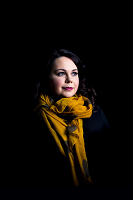 Described by The Strad as a player of 'authority and passion, with an unerring sense of direction, full of colour and underpinned by a clear musical intelligence', Welsh cellist Thomas Carroll launched his career when he won both Young Concert Artists Trust, London and Young Concert Artists, New York, following on from many prizes at numerous international competitions. He has since gone on to give critically acclaimed debut recitals at Wigmore Hall (London), Alice Tully Hall (NY) Konzerthaus (Vienna) and in Boston, California, Florida and Washington DC, as well performing in many major venues and festivals across Europe, Asia, Africa, Australia and America. As a concerto soloist Thomas has appeared with orchestras such as the London Symphony Orchestra, Philharmonia Orchestra, Royal Scottish National Orchestra, BBC National Orchestra of Wales, London Mozart Players, Royal and London Philharmonic Orchestras, the Vienna Chamber Orchestra (conducted by Heinrich Schiff), English Chamber Orchestra, Prague Philharmonic, Sofia Philharmonic, Melbourne Symphony Orchestra and the Bayerischer Rundfunk Orchestra. .....
More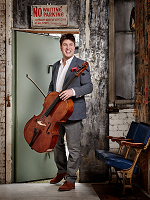 Chris Connel
Actor
Television Presenter
Chris has been an actor and television presenter for over thirty years. Theatre credits include: The Pitman Painters, Friedman Theatre Broadway New York and National Theatre/Live Theatre. Brassed Off, Wolverhampton Grand Theatre. Bouncers, Ambassadors Theatre Group. The Last Cyclist, Brundibár Festival. And A Nightingale Sang, Cheltenham Everyman. The Steal, York Theatre Royal. Aladdin Durham Gala, Close the Coal House Door, Northern Stage/Live Theatre, Wet House Soho Theatre/Live Theatre, Bouncers, Hull Truck Theatre. Loot, Hull Truck Theatre. Shooting the Legend, Theatre Royal Newcastle The Premiere of Cooking with Elvis, Live Theatre, Toast, Live Theatre. Nativities, Live Theatre. Studs, Up On Roof, A Kick in the Baubles, Cooking with Elvis Hull Truck Theatre. Black on White Shorts, Paines Plough. The Girls of Poppy Field Close Live Theatre, Peer Gynt, Three over Eden Theatre Company, Cuddy's Miles, Customs House. You Really Couldn't Make It Up, Live Theatre. The Fighting Bradfords, Gala Theatre Durham Television. .....
More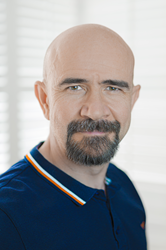 Acclaimed British pianist Danny Driver is recognised internationally as an artist of sophistication, insight and musical depth. His studies at Cambridge University and the Royal College of Music inspired his uniquely holistic approach to performance and have enabled him to cultivate an enviably broad repertoire encompassing works from Bach and Handel to Ligeti and Adès. In 2020, Driver has released his latest album of Ligeti's Etudes on the Hyperion label to unanimous high praise, with BBC Music Magazine writing, 'The Études require even more virtuosity...of a brain-teasing sort, and Danny Driver supplies it all.' Despite the difficulties of lockdown, Driver has given four live streamed recitals from Wigmore Hall, some also broadcast by BBC Radio 3. Summer 2021 sees him return to the Lichfield Festival for five recitals, a three-concert residency at Lammermuir Festival in September (2021) with violinist Chloë Hanslip and a planned return to the Bard Music Festival. Further highlights of the 2021/22 season include Rachmaninov Piano Concerto No.2 with the Royal Philharmonic Orchestra at the Royal Albert Hall, .....
More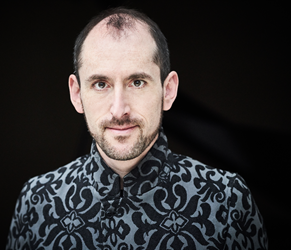 Jessica Duchen
Music critic, author, librettist
Jessica Duchen writes for and about music, including biography, fiction, journalism and librettos. Her first book was a biography of Erich Wolfgang Korngold for the Phaidon Press 20th-Century Composers series; Between Two Worlds, her third play, revisits a composer she has loved since her student days. Her other books include seven novels on musical topics and her librettos include two community operas with composer Roxanna Panufnik, commissioned by Garsington – Dalia (2022) and Silver Birch (shortlisted for an International Opera Award in 2018). As a critic, she writes for The Sunday Times, the i and BBC Music Magazine, among others. Jessica was born within the sound of Bow Bells and lives in south-west London with her violinist husband and two cats.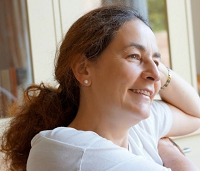 Daniel Grimwood is a performer of international renown, combining an exceptional talent, rare versatility and refinement, with an inquisitive personality. With a repertoire ranging from Elizabethan Virginal music to the works of living composers, he enjoys a solo and chamber career, which has taken him across the globe, performing on the most prestigious concert platforms, including the Wigmore Hall, Queen Elizabeth Hall and the Purcell Room in London, Saffron Hall, Bridgewater Hall in Manchester, Symphony Hall Birmingham, the Sage Gateshead, the Three Choirs Festival, the Rachmaninoff and Gnessin Halls in Moscow, the Carnegie Hall in New York, as well as venues in Germany, Austria, Italy, The Netherlands, Slovenia, Estonia, Taiwan, Azerbaijan, Egypt, Lebanon and Oman. His musical interest started as a 3-year-old playing next door's piano, and from the age of 7 he was performing in front of audiences. His training continued with Graham Fitch at the Purcell School, where he also studied violin, viola and composition, giving him a broad appreciation of classical music, and later with Vladimir Ovchinnikov and Peter Feuchtwanger. ...
More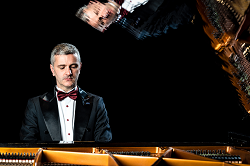 Training and skills:
Philip is delighted to be back at Brundibár and to have the opportunity to share amazingly important stories. Most recently he has been touring the wilds of Northumbria as Badger in Wind in the willows. Before that he was in Road at Northern stage and The strange case of Dr Jekyll and Mr Hyde. He has also appeared in the recent feature film, Give them wings. He is currently writing an adaptation of Frankenstein which is touring later this year.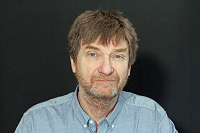 Robert Hersey
Theatre Director
Robert studied Music at Newcastle and Acting and Directing at The School of the Science of Acting and the National Theatre in London . He has worked extensively directing opera in Scotland and London and also as Head of Theatre in Colleges, Schools, Youth Theatres and Community Theatre projects. He has directed many plays and music theatre but has a particular passion for early and Contemporary Opera. He is also a singer, instrumentalist and conductor. He is delighted to be working again with the wonderful Brundibár Arts Festival. Recent work for the Festival includes War Mother and The Last Cyclist.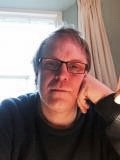 Dafydd Jones
Tenor
Young Professional Scheme
Welsh tenor, Dafydd Jones, is studying for a Masters degree at the Royal College of Music, London, under the tutelage of Nicky Spence, Edith Wiens and Caroline Dowdle. Dafydd is very generously supported as an Ivor Llewellyn Foster scholar, supported by the Leverhulme Arts Scholarship, The Munster Trust, and the Ryan Davies Memorial Trust. Dafydd is proud to be a Samling Artist and is also supported by the Josephine Baker Trust. Recently, he made his international operatic debut as Clotarco in Haydn's Armida and made his role debut as Pastore in L'Orfeo for Garsington Opera as an Alvarez Young Artist. Other operatic roles include the Title role in Orhpeus in the Underworld (Royal College of Music International Opera Studio), Don Ottavio - Don Giovanni (OPRA Cymru), Monostatos - Die Zauberflöte (Royal College of Music International Opera Studio) .....
More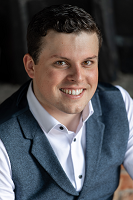 Yoshie Kawamura was born in Japan Nagoya and has been a resident in the UK since she was 11. She has given many performances worldwide where her main appearances were; in Germany 200th year of celebration for Chopin at Freiburg Musikhochschule, Switzerland Chamber Music Concert at Luzern Marianischer Saal, Berlin Chamber Music Festival Lunchtime Concert Series at Berliner Philharmoniker, and Netherlands International Stichting Apeldoon Festival. She was also invited to join the Berlin Philharmonic Quartet in performing Schumann's Piano Quintet on their tour of Japan; subsequently she received an invitation from the Poznan Philharmonia to perform as a soloist in Chopin's Andante Spianato and Grande Polonaise in a series of concerts in Poland. Her most recent appearances include Lunchtime Concert at King's Hall Newcastle University, Brahms and Shostakovich piano trio at Sage Gateshead Hall 1 and Rachmaninov Suite no.2 for two pianos at Durham Cathedral. ...
More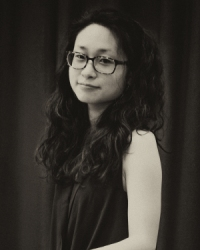 Natalie Klouda
Violin
Composer
Natalie Klouda is a British violinist and composer. Her early training was at the Yehudi Menuhin School, where she was greatly influenced by Yehudi Menuhin. A project to write compositions for his 80th Birthday engaged her passion for both chamber music performance and composition. As a chamber musician Natalie has performed in major venues across Europe and in the USA including the Purcell Room, Wigmore Hall, Queen Elizabeth Hall, Concertgebouw and Carnegie Hall and has recorded for the Resonus Classics label. Natalie was a founding member of the award winning Finzi Quartet, and prizes for their performances included the Austrian 'Wiener Klassik Prize' for interpretations of Joseph Haydn, 1st Prize in the 2010 Royal Over-Seas League Competition and a Swiss Global Artistic Foundation Award.. .....
More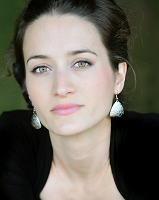 Possessing flawless technical mastery and a "beguiling silvery tone" (BBC Music Magazine), British violinist Jack Liebeck is one of the most respected musicians of his generation. Jack's fascination with all things scientific has included collaborations with Professor Brian Cox, and his own annual festival Oxford May Music. Jack is also Artistic Director of the Desy Humboldt Science and Music Festival in Germany and the Alpine Classic in Grindelwald, Swizerland where programming is centred around themes of music, science and the arts.  A renowned soloist and chamber musician, Liebeck has performed with all the major British orchestras under conductors such as Andrew Litton, Leonard Slatkin, Karl-Heinz Steffens, Sir Mark Elder, and further afield with Royal Stockholm Philharmonic (Oramo), Swedish Radio (Daniel Harding), Oslo Philharmonic (Saraste), Belgian National, Polish Radio Symphony, Queensland Symphony, Moscow State Symphony, St Louis Symphony (David Robertson), Indianapolis Symphony (Boyd), Melbourne Symphony (Hrůša), amongst many others. He can be heard on the soundtracks of The Theory of Everything, Jane Eyre and Anna Karenina. Jack is a professor of Violin at the Royal Academy of Music.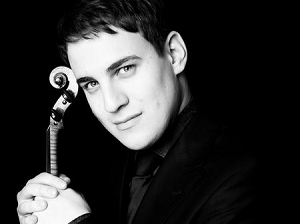 Roman Mints is one of the most outstanding and original musicians of his generation, named "unofficial leader of the new generation of musicians" by Nezavisimaya newspaper and has collaborated with violinists Gidon Kremer, Alina Ibragimova, Boris Brovtsyn, Alexander Sitkovetsky; flautist Sharon Bezaly, oboists Dmitri Bulgakov and Nicholas Daniel; pianists Katya Apekisheva, Ingrid Fliter, Alexander Kobrin, Charles Owen, Vadym Kholodenko, Andrey Gugnin, Lukas Geniušas; cellists Boris Andrianov, Jamie Walton, Alexander Buzlov and Kristina Blaumane; violists Maxim Rysanov and Nils Mönkemeyer; singers Gweneth-Ann Jeffers, William Purefoy, Anna Dennis. He has worked alongside conductors Andrew Davis, Saulius Sondeckis, Vladimir Ziva, Vladimir Ponkin, Philipp Chizhevsky; amongst others. He has performed with such prominent groups as London Mozart Players, London Chamber Orchestra, Lithuanian Chamber Orchestra, Musica Viva Orchestra, Russian Philharmonia, Kremerata Baltica, Prague Soloists and Prague Sinfonia. Roman regularly performs with Moscow Contemporary Music Ensemble. .....
More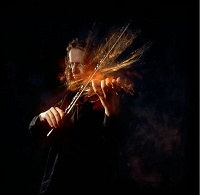 Alexandra Raikhlina
Violin
Alexandra Raikhlina was born in Moscow in 1983 and moved to Belgium in 1990. At the age of 13 she was Laureate of the "Charles de Beriot" competition before being awarded a place at the Yehudi Menuhin School, where she studied with Natalia Boyarsky. Later she received a full scholarship to study at the Guildhall School of Music and Drama with David Takeno and Krzsisztof Smietana. Alexandra has performed extensively as a soloist and a chamber musician in Belgium, England, Switzerland, Russia, Greece, Germany, Portugal and Hong-Kong. She has appeared in Wigmore Hall, Barbican Hall, Queen Elizabeth Hall, Fairfield Halls, Sage Gateshead, Centro Cultural de Belem, Elbphilharmonie. .....
More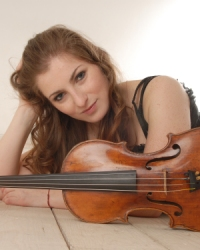 Gemma Rosefield, born in London in 1981, studied for a Masters Degree with Ralph Kirshbaum at the Royal Northern College of Music, supported by the Countess of Munster Musical Trust. She had previously graduated with Distinction at the Royal Academy of Music. Major competition successes include First Prize in the European Music for Youth Competition in Oslo, the Royal Overseas League String Competition, the Making Music Young Concert Artists Award, the Kirckman Award, and the Prix Academie Maurice Ravel. She has taken part in masterclasses with such musicians as Yo-Yo Ma, Gary Hoffman, Johannes Goritzki, Frans Helmerson, Zara Nelsova and Bernard Greenhouse. When she was only 18, The Strad wrote about her "Eighteen-year-old Gemma Rosefield & gave a heartfelt reading of Bruch's Meditation on the Jewish chant, Kol Nidrei. Her eminent control, her fine contrast between light and shade and her broad, expressive brush strokes made this a deeply affecting performance. The sheer sophistication and depth of understanding she revealed were inspirational." ...
More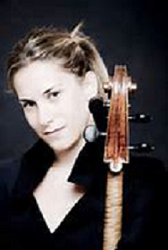 James was born in Cheltenham and grew up near Bristol, where he took up the viola at his local primary school, following strong encouragement from his mother. He spent several years learning with Richard Crabtree, then earned a place at The Royal Northern College of Music in Manchester with Nick Logie and Roger Benedict whilst beginning to work with the major orchestras of the north of England. After graduating in 1999, he completed a postgraduate diploma and received the Certificate of Professional Performance . The next year, James' partner, Chrissie, also a viola player, took a job with the BBC National Orchestra of Wales in Cardiff. James moved with her and continued to freelance, working with most of the country's orchestras.
Following the birth of their first child, James and Chrissie moved to the north east when James took a position with Royal Northern Sinfonia. He's closing in on a decade of service now and .....
More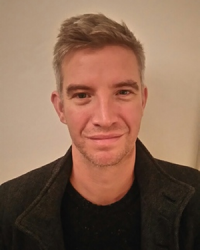 Steven is an actor from Sunderland and has been performing professionally since 2005. Having performed on stage and screen, in plays and musicals in theatres around the Northeast and Europe. Theatre credits include: Riever-Tales from the Boarders (Tour) The Big Time (Edinburgh Fringe) Fine Fine Fine (Gala Durham) Machine Gunners (The Customs House) Cinderella Musical (Italy Tour) Office 9to5 (Live Theatre) TV and Film: The Liability, Inspector George Gently, Interview with a Hitman, Trouble. He is grateful for the opportunity to be apart of this important festival
Liubov Ulybysheva was born in Moscow and started playing the cello at the age of five. Having studied at the Gnessin Special Music School and the Russian Music Academy, she came to London in 2003 to continue her studies at the Guildhall School of Music and Drama with Stefan Popov and Oleg Kogan, graduating with 1st class honours. Following that, Liubov completed a Master of Music Degree at the Royal Academy of Music with Professor Felix Schmidt, winning the Moir Carnegie Prize for cello on graduation. Liubov became the only cellist to win a prestigious scholarship from the Paganini International Competition funded by the Investment Programme Foundation, Moscow. She was also featured in the Reader's Digest magazine as one of the young stars of the Russian Hope feature. .....
More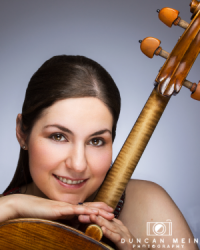 Dana Zemtsov is one of the most promising viola soloists of her generation. Gramophone Magazine has celebrated her playing as being "so perfectly tuned, so varied in colour and with such considerable distances in the intervals between the notes, that you would be forgiven for thinking it sounded more like a chamber orchestra". Dana regularly performs in concert halls such as the Royal Concertgebouw Amsterdam, St. Petersburg Philharmonia, The Opera House in Tel Aviv, and Carnegie Hall in New York. She has played chamber music with Janine Jansen, Giovanni Sollima, Martin Frost, Anna Fedorova, Ilya Gringolts, Boris Berezovsky, and many others. As a soloist, Dana has performed with symphony orchestras in the Netherlands, Italy, Germany, US, Brazil, Mexico, Ukraine and Estonia, under the baton of Leif Segerstam, Otto Tausk, Daniel Raiskin, Massimo Quarta, Marco Parisotto, and Fabio Mechetti. In 2011, she participated in the 'Stars of Tomorrow' tour in Germany, together with the most promising young talents of Europe. .....
More