Brundibár Arts Festival: The Artists 2022
Austrian flutist and musicologist Ulrike Anton received her musical education in Austria, France and Great Britain. She is one of the leading performers of works by composers who were persecuted by the Nazi-Regime during World War II. Together with exil.arte, the Austrian research center for exiled music, she won the Bank Austria Art Award 2010 for the project "Silenced Voices – Ostracized Music. She is frequently invited to perform works by exile composers at prestigious festivals, such as the Holocaust Education Week Festival in Toronto/Canada or the Tokyo Spring Festival. One of her CD projects as a soloist for the Gramola label includes works by Erwin Schulhoff and was recorded together with the world famous English Chamber Orchestra under conductor David Parry. .....
More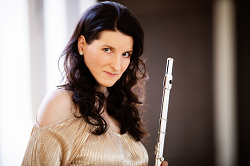 Katya Apekisheva is one of Europe's most renowned pianists, in demand internationally as both a soloist and as a chamber musician. Since becoming a prize-winner in the Leeds International and Scottish Piano Competitions and collecting awards such as the London Philharmonic 'Soloist of the Year' and the Terence Judd Award, she has been marked out as a pianist of exceptional gifts, performing with many of the world's leading orchestras, including the London Philharmonic, the Philharmonia, the Halle Orchestra, the Moscow Philharmonic, the Jerusalem Symphony, the English Chamber Orchestra and the Royal Philharmonic Orchestra, working with conductors such as Sir Simon Rattle, David Shallon, Jan Latham-Koenig and Alexander Lazarev.
As a recording artist, Katya has received widespread critical acclaim for her interpretations. Her recording of Grieg solo piano works in .....
More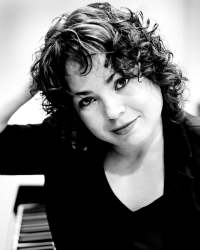 Patrick Bolton
Bassoon
Young Professional Scheme Artist
Graduating with a first-class degree in music from Christ Church, Oxford, bassoonist Patrick Bolton took up a place at the Royal Academy of Music where he studied the bassoon with Robin O'Neill, Jonathan Davies, and Amy Harman, and the contrabassoon with Simon Estell. He was generously supported throughout his studies by the Countess of Munster Trust, Help Musicians UK, and the Isabel May Walton Scholarship. Patrick graduated with distinction and was awarded the prestigious Diploma of the Royal Academy of Music for outstanding performance in a final recital. Following completion of his masters, Patrick won second prie in the final of The Arts Club – Sir Karl Jenkins Music Award 2020 in association with Classic FM. .....
More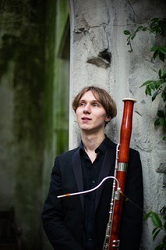 Daniel Grimwood is a performer of international renown, combining an exceptional talent, rare versatility and refinement, with an inquisitive personality. With a repertoire ranging from Elizabethan Virginal music to the works of living composers, he enjoys a solo and chamber career, which has taken him across the globe, performing on the most prestigious concert platforms, including the Wigmore Hall, Queen Elizabeth Hall and the Purcell Room in London, Saffron Hall, Bridgewater Hall in Manchester, Symphony Hall Birmingham, the Sage Gateshead, the Three Choirs Festival, the Rachmaninoff and Gnessin Halls in Moscow, the Carnegie Hall in New York, as well as venues in Germany, Austria, Italy, The Netherlands, Slovenia, Estonia, Taiwan, Azerbaijan, Egypt, Lebanon and Oman. His musical interest started as a 3-year-old playing next door's piano, and from the age of 7 he was performing in front of audiences. His training continued with Graham Fitch at the Purcell School, where he also studied violin, viola and composition, giving him a broad appreciation of classical music, and later with Vladimir Ovchinnikov and Peter Feuchtwanger. ...
More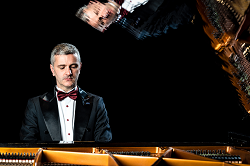 Yoshie Kawamura was born in Japan Nagoya and has been a resident in the UK since she was 11. She has given many performances worldwide where her main appearances were; in Germany 200th year of celebration for Chopin at Freiburg Musikhochschule, Switzerland Chamber Music Concert at Luzern Marianischer Saal, Berlin Chamber Music Festival Lunchtime Concert Series at Berliner Philharmoniker, and Netherlands International Stichting Apeldoon Festival. She was also invited to join the Berlin Philharmonic Quartet in performing Schumann's Piano Quintet on their tour of Japan; subsequently she received an invitation from the Poznan Philharmonia to perform as a soloist in Chopin's Andante Spianato and Grande Polonaise in a series of concerts in Poland. Her most recent appearances include Lunchtime Concert at King's Hall Newcastle University, Brahms and Shostakovich piano trio at Sage Gateshead Hall 1 and Rachmaninov Suite no.2 for two pianos at Durham Cathedral. ...
More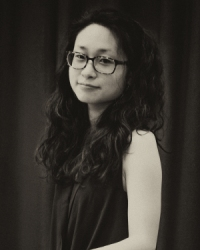 Jessica was born in Chichester, West Sussex. She began to learn the clarinet aged nine whilst one of the first girl choristers at Salisbury Cathedral. Jessica graduated from the Royal College of Music with a First Class Honours degree in 2004, where she studied with Janet Hilton, Michael Collins and Tim Lines. In 2005, Jessica gained her PGDip with distinction from the RCM where she was the Wilkins-Mackerras scholar and was supported by a full grant from the Arts and Humanities Research Council. After a busy freelance career in London working with the orchestra of the Royal Opera House, the London Symphony Orchestra, English National Opera and the BBC Symphony Orchestra, Jessica joined Royal Northern Sinfonia as Second Clarinet/Principal Bass Clarinet in September 2009.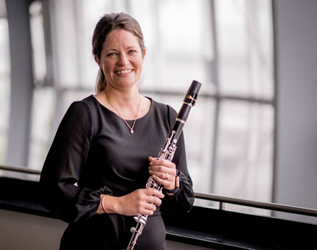 Possessing flawless technical mastery and a "beguiling silvery tone" (BBC Music Magazine), British violinist Jack Liebeck is one of the most respected musicians of his generation. Jack's fascination with all things scientific has included collaborations with Professor Brian Cox, and his own annual festival Oxford May Music. Jack is also Artistic Director of the Desy Humboldt Science and Music Festival in Germany and the Alpine Classic in Grindelwald, Swizerland where programming is centred around themes of music, science and the arts.  A renowned soloist and chamber musician, Liebeck has performed with all the major British orchestras under conductors such as Andrew Litton, Leonard Slatkin, Karl-Heinz Steffens, Sir Mark Elder, and further afield with Royal Stockholm Philharmonic (Oramo), Swedish Radio (Daniel Harding), Oslo Philharmonic (Saraste), Belgian National, Polish Radio Symphony, Queensland Symphony, Moscow State Symphony, St Louis Symphony (David Robertson), Indianapolis Symphony (Boyd), Melbourne Symphony (Hrůša), amongst many others. He can be heard on the soundtracks of The Theory of Everything, Jane Eyre and Anna Karenina. Jack is a professor of Violin at the Royal Academy of Music.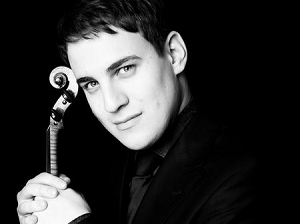 Alexandra Raikhlina
Violin
Alexandra Raikhlina was born in Moscow in 1983 and moved to Belgium in 1990. At the age of 13 she was Laureate of the "Charles de Beriot" competition before being awarded a place at the Yehudi Menuhin School, where she studied with Natalia Boyarsky. Later she received a full scholarship to study at the Guildhall School of Music and Drama with David Takeno and Krzsisztof Smietana. Alexandra has performed extensively as a soloist and a chamber musician in Belgium, England, Switzerland, Russia, Greece, Germany, Portugal and Hong-Kong. She has appeared in Wigmore Hall, Barbican Hall, Queen Elizabeth Hall, Fairfield Halls, Sage Gateshead, Centro Cultural de Belem, Elbphilharmonie. .....
More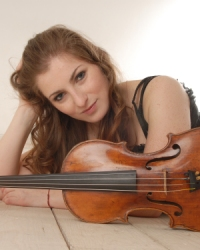 Gemma Rosefield, born in London in 1981, studied for a Masters Degree with Ralph Kirshbaum at the Royal Northern College of Music, supported by the Countess of Munster Musical Trust. She had previously graduated with Distinction at the Royal Academy of Music. Major competition successes include First Prize in the European Music for Youth Competition in Oslo, the Royal Overseas League String Competition, the Making Music Young Concert Artists Award, the Kirckman Award, and the Prix Academie Maurice Ravel. She has taken part in masterclasses with such musicians as Yo-Yo Ma, Gary Hoffman, Johannes Goritzki, Frans Helmerson, Zara Nelsova and Bernard Greenhouse. When she was only 18, The Strad wrote about her "Eighteen-year-old Gemma Rosefield & gave a heartfelt reading of Bruch's Meditation on the Jewish chant, Kol Nidrei. Her eminent control, her fine contrast between light and shade and her broad, expressive brush strokes made this a deeply affecting performance. The sheer sophistication and depth of understanding she revealed were inspirational." ...
More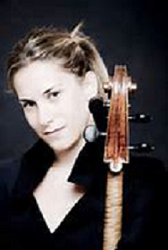 Jeremiah Stephenson
Organ
One of the UK's busiest young organists, Jeremiah's work has taken him across Europe and to America, performing in venues such at Westminster Abbey, Church of the Advent in Boston, St Peter's church Görlitz and Bratislava castle. His work has been broadcast on television and radio in the UK, France and the Czech Republic, appearing alongside the BBC singers on Radio 3 and playing a televised recital as part of the Janácek May International Music Festival. Most recently, Jeremiah joined the French chamber choir Dulci Jubilo performing Escaich's Trois Motets in the presence of the composer, which was recorded for broadcast. Upcoming projects include recitals in venues such as Uppsala Cathedral, Sées Cathedral, Selby Abbey and Buckfast Abbey, as well as further concerts and a CD recording with the Bettancourt prize winning choir La Maîtrise de Toulouse. .....
More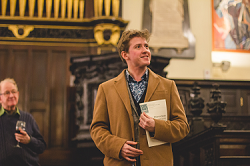 Liubov Ulybysheva was born in Moscow and started playing the cello at the age of five. Having studied at the Gnessin Special Music School and the Russian Music Academy, she came to London in 2003 to continue her studies at the Guildhall School of Music and Drama with Stefan Popov and Oleg Kogan, graduating with 1st class honours. Following that, Liubov completed a Master of Music Degree at the Royal Academy of Music with Professor Felix Schmidt, winning the Moir Carnegie Prize for cello on graduation. Liubov became the only cellist to win a prestigious scholarship from the Paganini International Competition funded by the Investment Programme Foundation, Moscow. She was also featured in the Reader's Digest magazine as one of the young stars of the Russian Hope feature. .....
More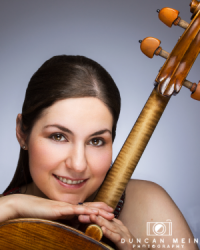 Rosalind Ventris is a leading advocate of the viola, and works as a performer, teacher, researcher and writer. As a recitalist and chamber musician, she has performed at some of the world's most prestigious venues and festivals, including the Royal Festival Hall, Wigmore Hall, West Cork, Purcell Room, Aldeburgh Festival, Auditorium du Louvre, Bozar, Great Music in Irish Houses, Slovak Philharmonic and Het Concertgebouw. She has been invited to perform concerti with the European Union Chamber Orchestra, Sinfonia Cymru, l'Orchestre Royal de Chambre de Wallonie and the Belgian National Orchestra. .....
More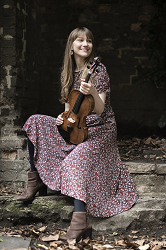 Noted for his rich sound, purity of tone and uncompromising musicality, Jamie has appeared throughout much of Europe, USA, New Zealand, Australia, Canada, Scandinavia, Switzerland and the UK in both solo and chamber capacity. He has performed concertos with many world-class orchestras such as the London Philharmonic Orchestra, Royal Philharmonic Orchestra and The Philharmonia. Jamie, who was born in Germany but now lives in North Yorkshire, has recorded 13 concertos with the Philharmonia and the RPO, which include the Dvořák and Schumann with Vladimir Ashkenazy, released to great critical acclaim.  He has also recorded much of the sonata repertoire with Daniel Grimwood, the complete works for cello by Britten and a film of the Britten Suites for solo cello, premiered on Sky Arts, all released on Signum. .....
More